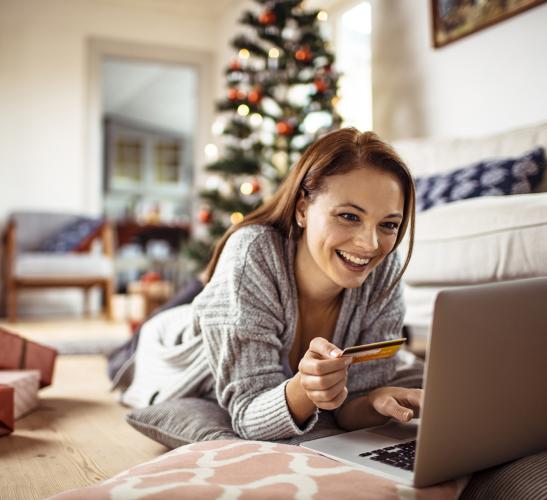 Say "No" to Holiday Scammers
Take steps to make sure you don't fall for scams this season.
First and foremost, remember we will never contact you to ask for your social security number, debit card number or pin, account numbers or other personal and financial details. This goes for phone calls, emails and text messages. If you receive this type of suspicious communication, here's what you should do. If it's a call, hang up immediately. If it's an electronic message, do not reply and avoid clicking on any links. Then make sure to call our customer service center or your local branch to report it.
Don't fall for Common Holiday Scams
Stay Safe While Shopping Online – Before handing over your hard-earned dollars and personal information, be sure to do these things. First check to make sure the website is secure – look for a lock symbol in the address bar. Then only order from trusted websites, if the website is new to you, read third party reviews and research the company before placing an order. Keep in mind that if a website promises rock-bottom prices on expensive, in-demand or hard-to-find items be wary, it's likely a scam.
Be Smart about Charitable Giving – Whether it is through a charity or crowdfunding website, do your research to make sure your donation is going to who you'd like to help and not a scammer. Also, remember if someone pressures you to make a rushed decision or send your donation via cash, gift card, wire transfer or untraceable online transaction, don't do it.
Give Gift Cards with Confidence – Gift cards are a holiday staple, but before you pick up a few, consider the potential risks. Gift cards sold on large display racks at big box stores are more susceptible to tampering by thieves. It's often safer to buy gift cards directly from the retailer that redeems them. Another option is to purchase a Visa® Gift Card from your local Pinnacle Bank branch.
What You Can Do to Help Safeguard Your Account.
Keep up to date with Online and Mobile Banking – It's important to review your monthly account statements, but checking your account more frequently is ideal. That's why we recommend checking your accounts with our easy to use mobile app or online banking. If you see any funny business, contact your local branch immediately for assistance. Plus, when you check your account regularly, you'll know how much you have left in your account for any last-minute gifts or peppermint mochas.
Go a Step Further with CardControl – This app lets you not only track your Pinnacle Bank debit and credit card transactions in real time, but it allows you to set controls for your card use ahead of time. You can use CardControl to set where, when and how your cards can be used. For example, if your card is only to be used for gas at fill up stations, CardControl can help– it will decline your card if someone tries to use it somewhere else. Plus, you can turn your cards off and on with the app.
Take Control of Your Online Transactions – While it's convenient to store your card information on websites you use often, trusting just anyone – even respected retailers – comes with extra risk. You can avoid the risks of storing your card information on multiple websites but still keep the convenience of fast checkout by using an online payment service like PayPal, Visa® SRC or Apple Pay®. Those services encrypt your card information so the seller never sees it, plus you can still check out in a couple of clicks as opposed to entering your information each time.
What We're Doing to Help You
Our 24/7 Fraud Monitoring is Always at Work – Our EnFact® fraud detection software keeps an eye on your debit and credit card activity and alerts you to anything out of the ordinary. If we find something like an out-of-state purchase, we notify you to either confirm the transaction or start resolving fraud. All we need is your current phone number to make sure we can reach you.
Customer Service You Can Count On – Whether you have questions about our services, need help resolving fraud or just need a friendly person to talk to, our highly trained tellers, personal bankers and customer support staff are here for you. They are diligent in their efforts to protect your account and always happy to help.